Devon Hog Roasts
From a basic Devon hog roast – with rolls, stuffing & apple sauce… to the full works! – the choice is yours.
 

Cost-effective catering for any number of people.

Welcome to Astridges Hog Roasts. Being a family business means that we cook and cater for you in the way we would expect to be treated ourselves. Constantly experimenting with new recipes, sauces and ideas, Astridges brings together a wealth of experience in a new and refreshing approach to the ever-popular spit roast. We believe that our generous portions, excellent quality food, flexibility and level of service offer a cost-effective alternative to expensive formal catering, with that certain relaxed approach, more typical of a medieval banquet or a French soirée! We're all about Devon!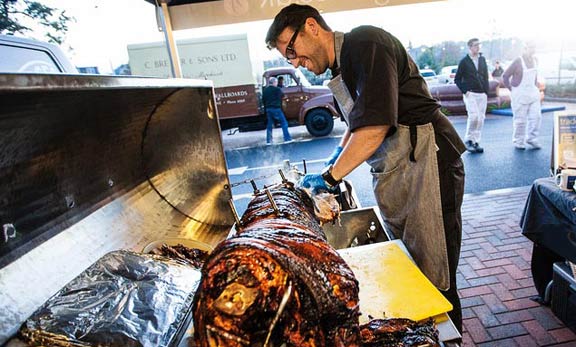 Quick Reference Prices. See our full range of prices on the down loadable pdf on our PRIVATE CATERING PAGE
HOG ROASTS     80 people – £720…     100 people – £760…     120 people – £820…  150 people – £900…   200 people – £1100  Prices include our home-made tasty herby stuffing and apple sauce with cinnamon –  and locally baked bread rolls. Tomato sauce & brown sauce are also included. Prices are subject to VAT.
WEDDINGS  Hog Roasts for weddings in Exeter and Devon … Plus a lot more! CANAPÉS…. SALADS… SIDE-DISHES… DESSERTS… COFFEES… and STAFF if needed.  We also have an extensive range of event hire items.
If you're looking to create a reception or evening event with far more of the rustic and a lot less of the formal, why not turn a traditional hog roast into a feast of good fun. From a basic Devon Hog Roast to a full combination of courses, services and hire facilities, we can help-plan a great event – serving any number people. See our NEWS page for our recent activities.
We can also provide mixed meat options as well as very popular, tasty vegetarian dishes. We cook all our meats fully on site and, if needs be, can provide staff to serve drinks, canapés and food. Choose from a wide selection of canapés, home-made salads, scrumptious puddings, cheeses and coffee to finish. We also provide relishes and chutneys from our secret recipe range. The choice is yours! Please email us for guideline costs OR give us a call – we'll be delighted to advise or arrange a meeting.
Our meat suppliers are local.
Call Paul or Sophie – on 07811 416254 (or 01392 794976)